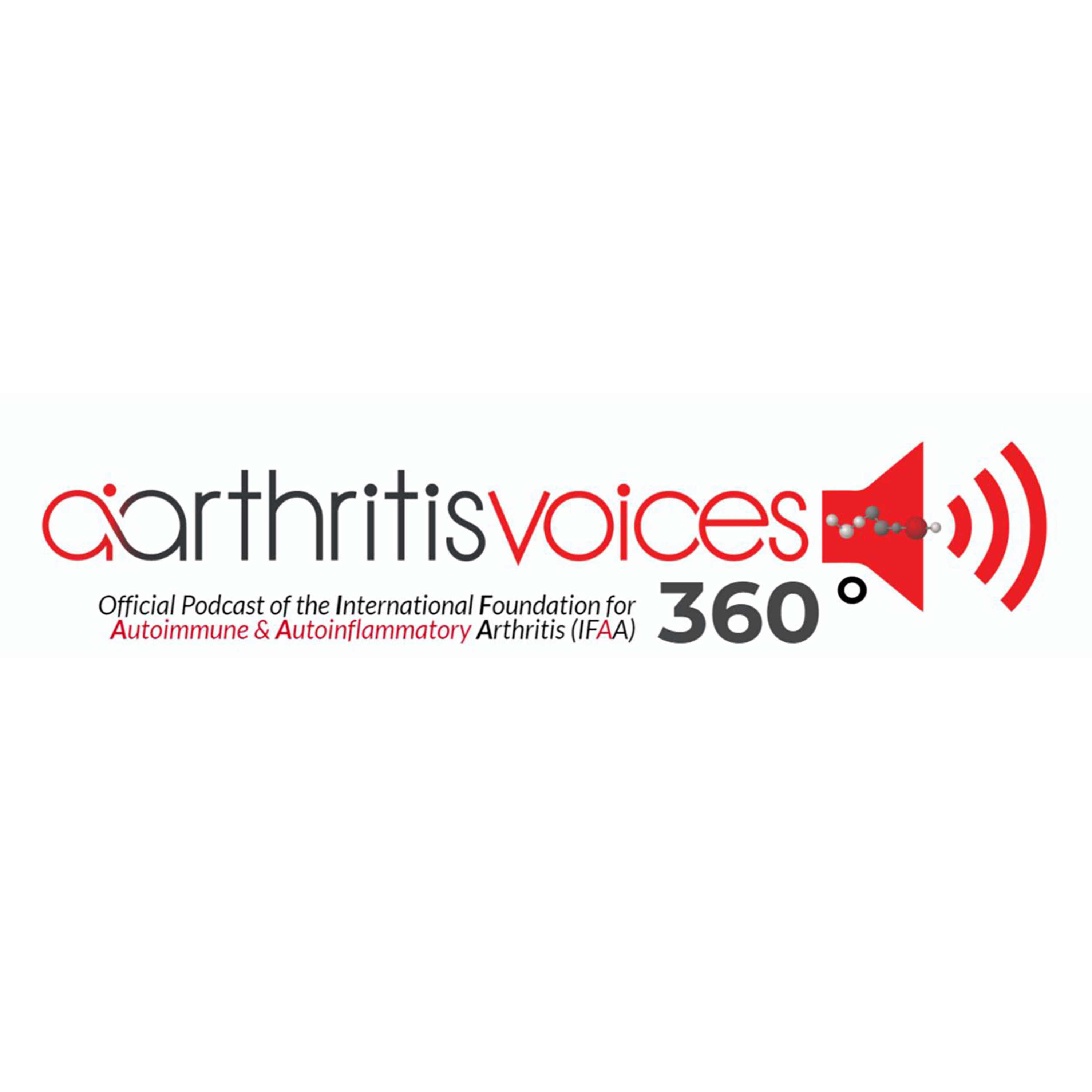 This week join your recurring patient co-hosts Katie Simons and Deb Constien as they discuss the experience of being diagnosed with arthritis as a juvenile and the importance of differentiating between the different types of AiArthritis diseases. Katie is the Senior Program and Communications Manager for AiArthritis and a patient living with inflammatory arthritis. Deb is a dietitian, an experienced patient advocate and ambassador for the AiArthritis community, and a patient living with inflammatory arthritis. They both discuss the complicated nature of identifying just precisely what their diagnosis is as adults who were originally diagnosed with a juvenile form of arthritis. 
This episode will tackle subjects of particular importance to the AiArthritis community such as differentiation of disease types, early intervention, shared decision-making, Stills Disease Awareness, and the experience of living with an invisible illness. Life with an invisible illness can be particularly challenging for children and adolescents, and our co-hosts share their experiences as teens faced with a new diagnosis and limitations. For more information on living with an invisible illness, check out Episode 12: Invisible Disease.
After you listen to this episode, we want to hear from you to keep the conversation going. If you were diagnosed as a young person, are you still using the initial diagnosis?  Have you changed the way you describe your condition to others since becoming an adult or since the medical community changed the name of your disease? How do you feel about having an accurate diagnosis or about changing your diagnosis? 
Now, if you are a patient, a parent of a juvenile patient, or any other stakeholder (doctor, nurse, researcher, industry representative, or other health services person) - are you ready to join the conversation? It's your turn to pull up a seat. Join Katie, Deb, and all the other recurring Voices 360 co-hosts to continue this conversation inside our coordinating AiArthritis Voices online community - where patients unite with others around the world to talk, learn, and connect. 
AiArthritis Voices 360 is produced by the International Foundation for Autoimmune and Autoinflammatory Arthritis. Visit us on the web at www.aiarthritis.org/talkshow. Find us on Twitter, Instagram, or Facebook (@IFAiArthritis) or email us (podcast@aiarthritis.org) to have your seat at the table.  
Episode 65: Young and Invisible
00:53 - Katie welcomes listeners.
01:16 - Today's topic is about being young and diagnosed with an invisible illness, as well as the importance of differentiating between the different types of AiArthritis diseases.
01:31 - Katie is joined by Deb, a recurring co-host who was diagnosed with RA at age 15.
02:05 - Katie was also diagnosed as a juvenile with JIA (juvenile idiopathic arthritis).
02:52 - Both Katie and Deb were treated by an adult rheumatologist because pediatric rheumatologists are very rare if they are available in your community at all.
03:20 - Deb and Katie share their respective diagnosis stories.
09:56 - It can be difficult for juveniles to get peer support because most people assume arthritis only affects elderly people.
11:07 - Friends sometimes stop inviting patients to participate in activities because they don't understand the physical limitations of people with AiArthritis.
12:25 - Juvenile arthritis patients may find it difficult to continue activities they had previously enjoyed because of pain and fatigue.
14:48 - We want to hear from our listeners: If you were diagnosed as a young person, are you still using the same diagnosis? 
15:12 - Stills Disease Awareness Day is coming soon.
15:24 - Stills Disease is actually an umbrella term that encompasses Systemic Juvenile Idiopathic Arthritis and Adult Stills Disease (the difference being whether you were diagnosed before or after age 16).
17:55 - Katie was diagnosed with JRA, but she generally refers to her disease as simply RA or arthritis since becoming an adult.
19:27 - Getting an accurate diagnosis can take many years because doctors don't believe the patient or symptoms are not obvious or the symptoms do not match any one specific diagnosis readily.
24:01 - Early intervention is critical if the patient is ever going to achieve remission, so identifying the appropriate screening tools and making sure all AiArthritis patients receive them is very important.
25:56 - Especially in very young children, persistent parents are critical to getting an accurate diagnosis and early intervention.
29:37 - Patients living with AiArthritis diseases sometimes feel like they are just waiting for their condition to deteriorate.
30:06 - New medications for AiArthritis hitting the market provide hope for all patients to improve.
33:16 - With regard to changing medications, having surgeries, or any other therapeutic decisions, it's important that the patient be emotionally ready to proceed.
35:50 - Shared Decision Making between patients and rheumatologists helps ensure that patients are comfortable with the therapeutic choices being made for their care.
37:22 - To continue this conversation, join us in the Facebook group for the talk show.
37:28 - You can also find us on all social media platforms @IFAiArthritis.
38:43 - You can also find any of our previous podcast episodes at aiarthritis.org/talkshow or on any podcast platform.
39:04 - Or message us via social media or email us at podcast@aiarthritis.org.
Be sure to check out our top-rated show on Feedspot!